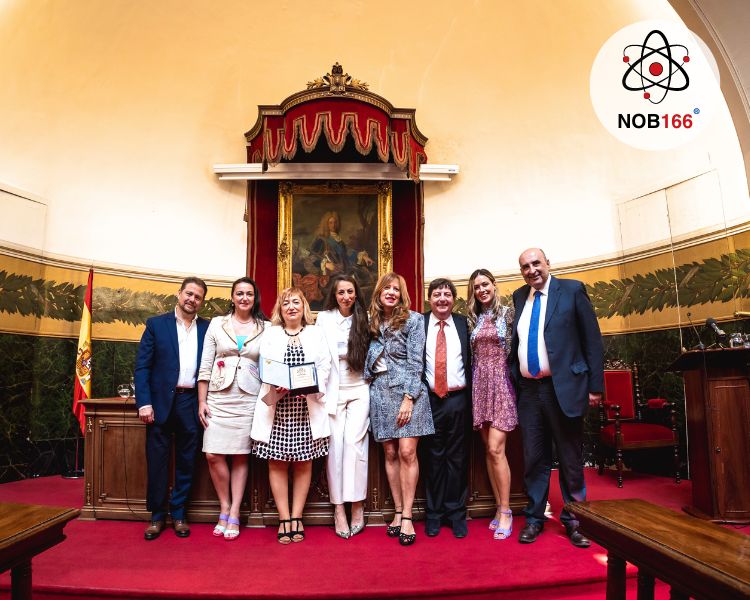 This year we are celebrated he third edition of NOB166 National Nanotechnology Award. This award is a symbol of our company's commitment towards innovation in the field of nanotechnology.
Its aim is to highlight the work of professionals who have contributed to this discipline.
The laureate of the third Edition is Laura Lechuga, Research Professor at the CSIC and Group Leader of the Catalan Institute of Nanoscience and Nanotechnology (ICN2), for her outstanding research in Nanophotonics and Nanodiagnosis in the development of photonic biosensors, their integration in portable "Point-of-Care" (POC) platforms and their application in decentralised clinical and environmental diagnostics.
Career of the winner of NOB166 National Nanotechnology Award
Laura M. Lechuga Gómez studied Chemical Sciences at the University of Cadiz and obtained her PhD at the Complutense University of Madrid. It should be noted that Prof. Laura Lechuga has more than 300 scientific publications in the research field. She also holds 8 patent families and is co-founder of two spin-off companies. The awarded is "Honoris Causa" doctorate at the University of Cadiz, where she studied Chemical Sciences.
It is worth mentioning that the winner of NOB166 National Nanotechnology Award has received more than 19 distinctions throughout her professional career: the Physics, Innovation and Technology Award from the RSEF and the BBVA Foundation in 2016, the King Jaume I Award in New Technologies in 2020, ASTRAZENECA's "Lung Ambition Alliance", among others.
The award ceremony was held at the Royal National Academy of Medicine in Madrid. Prof. Laura Lechuga deserves this recognition for her outstanding career, as well as for her valuable contributions to this discipline. Dr. Miguel Moreno, Drug Discovery Manager of the company AptaTargets and postdoctoral researcher for three years in the research group of the winner, was in charge of the laudatio.
Jury members of the III Edition
Some of the jury members of the prestigious National Nanotechnology Award NOB166 came to the event:
Noelia Beltrán Aznar (CEO of NOB166)
Julio Camarero (Researcher at IMDEA)
José Luis Belinchón Carmona (Technological Innovation Manager of the Community of Madrid)
Yolanda de Miguel (Director of Nanotechnology at Tecnalia)
Martín Hernández-Palacios (Lawyer at Alcor Asociados, President of Foro Ganivet and Director of the Women and Leadership Course of the Madrid Chamber of Commerce)
Anna Larromaine (Senior Researcher at ICMAB-CSIC)
Javier Maira Vidal (Head of Commercial Strategy and Internationalisation Area, CSIC)
Eva Martín Becerra (Founder and CEO of Kinrel)
Rodolfo Miranda Soriano (Winner of the II Edition of NOB166 National Nanotechnology Award. Professor of Condensed Matter Physics at the Autonomous University of Madrid and director of the IMDEA Nanoscience Research Institute)
Pedro Serena (Researcher at the Institute of Materials Sciences of Madrid, CSIC)
Miriam Ortega Montalvo (Marketing and Communications Manager of NOB166)
At NOB166 we are proud to acknowledge one more time the work of researchers who foster innovation in nanotechnology by granting NOB166 National Nanotechnology Award.