NOB166® the best preservative against coronavirus for textiles
Following EN 14476 Standard, the Health Department, for determination of virucide performance, fixed a minimum of reduction of 4 logarithms units for viruses growing. Specifically, on coronavirus FCoV, based on EN 14476 clinics test carried on, shows as NOB166® gets 5,13 (>4) logarithm units growth reduction. It means NOB166® exceed by far Health Department rules.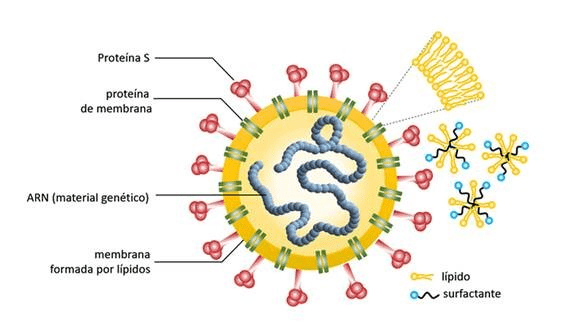 NOB166® disables the virus in textiles
Disinfectants, acting like a surfactant agent, join to lipidic fatty layer which is covering virus genetic material solving it. RNA (virus genetic material) become then exposed and destroyed because of multi target effect of NOB166® which interrupt electron chain transport, protein synthesis and RNA formation. NOB166® supply surfactant enough to start up lipidic layer hydrolysis which is the first step for coronavirus deactivation. Furthermore, active substance particle size at NOB166® es almost the same like coronavirus itself. It eases contact between them and virucide activity indeed.
Once NOB166® go through lipidic barrier, silver ions attack coronavirus RNA blocking virus replication. Due to their formulation, NOB166® keeps on textile for, at least, 7 days expanding antivirus effect. It is because NOB166® active substance slowly release from carrier, where it is encapsulated, forming a protecting layer covering fibers and protecting them against new viruses' replications. This protecting layer act against viruses' proteins blocking virus replication for 7 days, at least.
How do you can incorporate NOB166® textile protection to your material?
NOB166® is a based on unique proprietary and patented nanotechnology. Indeed, it could be used as an additive for formulation of detergents, softeners, stain removers and other textile cleaners as well.
Any detergent manufacturers whom add NOB166® to their fabricates, will provide them with antimicrobial performance. This property will be transferred to clothes cleaned with. This antimicrobial performance will not be just after the cleaning process, but 7 days after it, which introduce a new concept in the today Market detergency.




How and where NOB166® collaborate on, furthermore textile protection?
• Possible reduction on diseases infection
• Avoid mite proliferation
• Upholstery protection against microorganism.
• Increase efficiency at cold water cleaning processes. • Stability at high temperatures cleaning processes.
• Prevent from bad odor on clothes.
• Increases asepsis on sanitary spaces, hospitals, surgery rooms and intensive care rooms helping to reduce fear nosocomial infections.
• Reduce cross contamination
NOB166® becomes an invisible, textile protection, white armor able to keep out for, at least, 7 days effects derivates from growing of pathogens agents which could be in contact with.